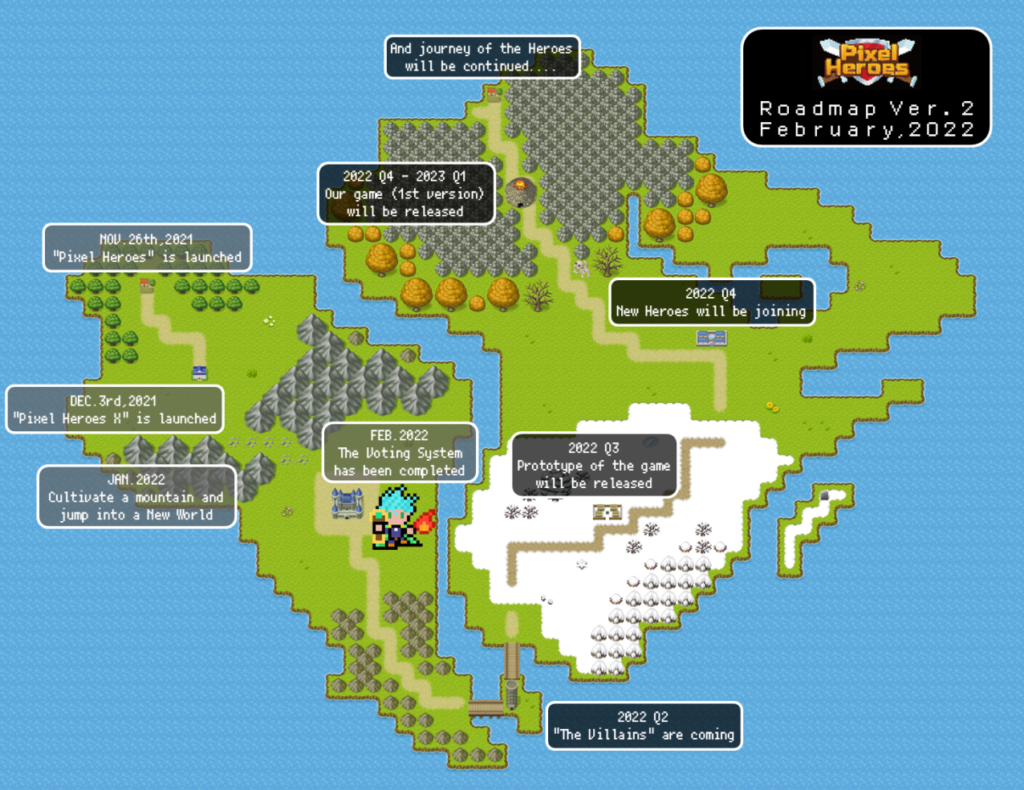 November 26th, 2021, "Pixel Heroes" is launched.
1,000 units were released as the first generative NFT in Japan.
Sold out in a little over a day.
December 3rd, 2021, "Pixel Heroes X" is launched.
5,555 Pixel Heroes were released as the second batch.
The first heroes with pets, with an appearance rate of about 1.5%, were released.
Sold out on February 10.
January 2022, Cultivate a mountain and jump into a New World.
The two founders had transferred full control of the project to DAO. The project is now run by all DAO members.
February 2022, The Voting System has been completed.
For all members to decide the policy of the collection, the role authority given to heroes according to the number of NFTs they hold is abolished, allowing anyone to speak freely within DAO.
The voting system is now completed, with the number of NFTs held being the voting power.
2022 Q2 (April-June)
Pixel Heroes Villains will be released as the third batch.
What's going to happen with Villains…
2022 Q3 (July-September)
The prototype of the game will be released.
The engineering team is working on it.
2022 Q4 (October-December)
New Pixel Heroes is expected to be released as the fourth batch…
2022 Q4 – 2023 Q1 (October 2022-March 2023)
We plan to release a game linked to the Pixel Heroes series of NFTs.
We are developing a game that you can enjoy playing with your own NFTs.
*In addition to the above, from time to time, we consider fan fiction, airdrops, official goods sales, and events in which everyone can participate.
There are various project teams in the DAO, and you can become a PJ member and manage them yourself.
In addition to chat, there are also voice channels, and the latest information will be announced on Discord and official Twitter.